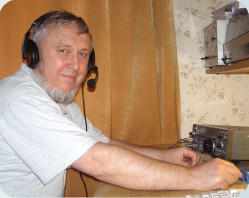 Gennady Treus (UX5UO) has been on the air since 1967, ex op. UK5UBB, ex UB5UKO, RT5UO and KE4EKT. Contest call US1U.
Hobby #1 is DXing. QSL-cards printing is hobby #2 as well as being a small personal business.
Most cherished dream is to win DXCC Honour Roll Award for making QSLs in addition to existing DXCC CW, DXCC SSB, DXCC RTTY, DXCC H.R. #1, 5B DXCC and other awards.
As of February 2017 18546 unique callsigns from 318 DXCC countries have already been printed by "UX5UO print".
Our thanks and appreciation go out for the support provided by our partners and friends all around the world. Their efforts are invaluable! Through their efforts you can also visit "UX5UO print" pages in other languages (but note that info on this site is mostly relevant):